If you have recently been diagnosed with pre-diabetes or are afraid of developing diabetes, you might be concerned with your blood sugar. Also, you might be having some questions as to what is blood sugar, and how does it feel like.
Well, in this guide, we will tell you everything you need to know about blood sugar. After all, regulating blood sugar is the key element of managing and preventing diabetes. Once you understand it, you will be able to manage and probably avoid type 2 diabetes completely.
So, what is happening in the body when the blood sugar is too high or too low? What does a person experience, and how does it affect the body? Here is everything you need to know about blood sugar spikes and dips.
What is Blood Sugar
Blood sugar is the concentration of glucose in the blood. It is the primary sugar found in the blood. Furthermore, it comes from the type of food we eat, and it is our main source of energy. Diabetes is a disease that makes blood sugar rise.
In time, it can affect glucose and cause serious problems. But, even if you don't have diabetes, you can experience problems with your blood sugar if the levels are too high or low.
Symptoms of High Blood Sugar
High blood sugar is very common among people with prediabetes, type 2 diabetes, and type 1 diabetes. It happens when a person eats an excessive amount of food, and lack insulin to regulate blood sugar.
Therefore, it is important to pay attention to the symptoms and avoid complications. The usual symptoms of high blood sugar are:
Nausea;
Drowsiness;
Constant urination;
Blurry vision;
Extreme thirst or hunger.
Symptoms of Low Blood Sugar
These are also common symptoms that people should look out for.
Anxiety;
Dizziness;
Sweating;
Irritability;
Extreme hunger;
Fast heartbeat;
Shaking;
Weakness;
Exhaustion.
Why Do These Symptoms Matter?
Many people with diabetes can face low or high blood sugar. Therefore, it is important to understand the problem so that they can properly treat it. Knowing the symptoms makes it easier to deal with the issue.
The reason why these symptoms are very important is that it is crucial to avoid medical emergencies, like ketoacidosis. Therefore, make sure to recognize the symptoms before it gets more serious.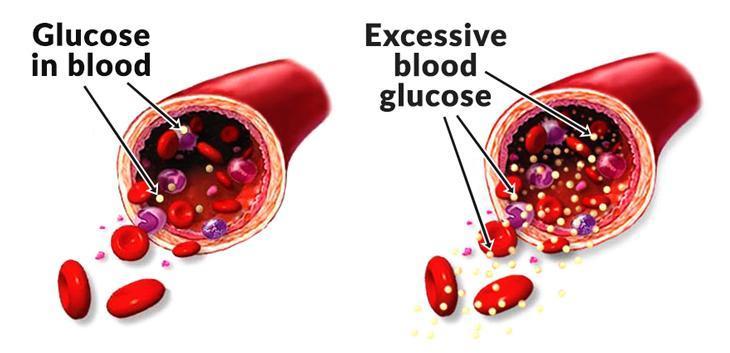 How Does it Feel?
When your blood sugar is too high, you may feel extremely tired, and thirsty, have blurry vision, have to go to the bathroom very often, and you are losing weight way too fast. Moreover, high blood sugar may make you feel sick and force you to throw up or faint.
Therefore, it is important to know the symptoms and receive proper treatment. Also, check your blood sugar as much as you can to make sure that it is normal.  However, if it suddenly drops, it may cause hypoglycemia.
What Happens When We Eat Protein, Carbohydrates, and Fat
Blood sugar responds differently to different nutrients and macronutrients. Moreover, fat doesn't have a heavy impact on blood sugar levels. However, carbs do, while proteins have a medium impact.
And since fats and carbohydrates provide energy for the body, it is crucial to eat them. However, a person with diabetes or prediabetes has to limit the intake of carbs. In fact, they should set the primary focus on fat, since it can also provide the body with energy.
But, if you don't consume healthy fats, your body will constantly feel hungry, and you will have a difficult time dealing with the cravings. Now that you know what blood sugar is, you can easily deal with the problem.
Also, feel free to ask your doctor for advice if you want to know more.