According to Web MD from 2017, 30.3 million Americans, or 9.4% of the US population have diabetes, many of whom have type 2 diabetes. Having diabetes means that our body can't properly digest the food to use it as energy as it should.
As a result, it is crucial to learn how to manage this condition effectively.
Furthermore, it is important to find a proper way to avoid any health complications. Some of the most common health complications are kidney disease, vessel and nerve disease, and eye conditions that may cause blindness.
Moreover, managing weight with exercise is also important for reversing type 2 diabetes. Aside from exercise, it is important to follow a diabetes-friendly diet. That is why it is important to get in the habit of planning your meals.
Meal Planning
Meal planning may be time-consuming, but it is absolutely worth it. Therefore, try to get into a routine of healthy meal planning to prevent type 2 diabetes. Not sure how to start?
According to Toby Smithson, the author of "Diabetes Meal Planning and Nutrition for Dummies" and spokesperson for the Academy of Nutrition and Diabetes, what you need is commitment. You have to be extremely determined to create a meal plan and stick to it.
Furthermore, you have to be ready to take the time to write down the plan. Start by writing a menu for the entire week. Check out some of our guides for an idea. Next, write a shopping list and choose the foods that are ideal for your body and condition.
Consult with your doctor if you have trouble finding out which food is perfect for you. Moreover, try to change the meals every day so that you won't get bored. Also, try not to make too much food and leave a lot of leftovers.
They will inspire you to overeat. After all, proper meal portions matter for treating and preventing type 2 diabetes.
What to Eat?
If you are planning a diabetes-friendly meal, it is important to purchase the right foods. Here are the most popular diabetes-friendly foods.
Fruits and Veggies
Every fruits and veggie contain a huge amount of vitamins, minerals, and plenty of nutrients. Therefore, they can be perfect for improving overall health. To pick the meals with the lowest amount of carbohydrates and calories, focus on the non-starchy vegetables.
Here is a list of some of the most popular non-starch vegetables:
Brussels sprouts;
Carrots;
Celery;
Eggplant;
Green beans;
Cauliflower;
Salad greens;
Zucchini.
It can be beneficial to start counting the number of carbs you consume. But, if that is complicating and time-consuming for you, you should focus on the size of the meals you eat. As you can see in the picture, place the foods on the plate according to this picture.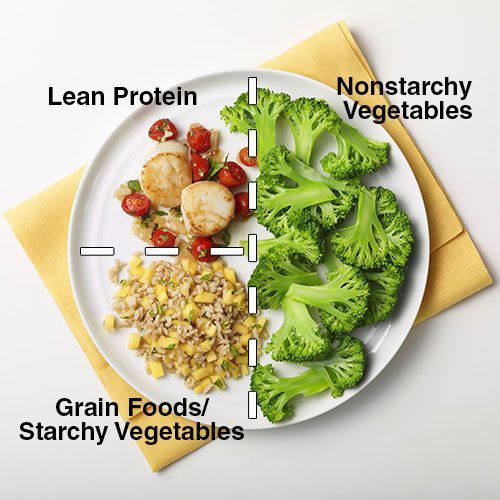 It is important to consume both fruits and veggies, but it is also important to pay attention to the portion of your meal.
Recommendation
According to Shelley Wishnick a clinical nutrition coordinator and a dietitian at Mount Sinai Diabetes Center, it is important for people with diabetes to pick one serving of fruit every time they make a meal.
Because even the natural sugars can make the blood sugar rise. Therefore, you can consume half a cup of one of your favorite fruit. Chop them well and enjoy it. Furthermore, if you want to purchase fruits or veggies, focus on the ones that are in season.
This is a crucial part of managing your diabetes. The foods that are not in season contain plenty of chemicals that force the product to grow.
Seafood and Meat
Consuming meat and seafood are important. Seafood contains omega-3 fatty acids which are a perfect choice for improving heart and brain protection. So, try to eat at least two servings of fish every week. When it comes to another source of meats, go for lean, turkey, or chicken.
In a serving consume 3-ounce of the type of meat you chose. Try to eat at least 3 servings of meat every week. However, it is best to stay away from some sausages and bacon. These foods contain a lot of fat and sodium but are not a good source of protein.
For more details about the type of meat you should and shouldn't consume, it is best to consult with your doctor or dietitian. After all, everybody is different. Therefore, various foods may have a different impact on overall health.
Dairy Products
According to studies, yogurt is healthy food for people with diabetes. It might help prevent the condition from developing or keep it in control. Some dietitians recommend consuming Greek yogurt since it is a great source of protein and it doesn't contain a lot of carbs.
Furthermore, cottage cheese might be the best option for getting the proteins you need. But, whenever you purchase yogurt, it is important to lead the labels and look for added sugars. So, avoid any flavorings or adding if you want to avoid all that sugar.
Frozen Foods
People with diabetes can consume plenty of frozen foods like veggies, fruits, fish, and shrimp. However, it is highly important to read labels and avoid products that contain sodium, additives, or sugar. Furthermore, you can use frozen foods as a part of every meal.
They are a time-saving product that can make your lives much easier.
Snacks and Breakfast Ideas
Avoid processed foods as much as you can. In general consume foods that have some of these words:
Sprouted grain;
Whole grain;
High fiber;
Whole wheat.
Some dietitians recommend consuming foods that contain 3g of dietary fiber and less than 8g of sugar in one serving.
Grains
It is important to avoid too many carbs if you want to control your blood sugar levels. Therefore, it is important to consume food that won't cause blood sugar to spike. The best food choices are products that will take longer to digest and manage the cravings.
Some of them are:
Oats;
Corn;
Quinoa;
Buckwheat.
However, if you have inflammation problems, you can consume foods that are easy to digest and can boost metabolism.
Final Thoughts
For people with diabetes, it is important to manage blood glucose levels. But, without a diet, even the toughest exercises can't help keep the condition in check. Therefore, it is wise to avoid highly processed foods and refined carbs.
Lastly, focus on a diet that is right for your body and can help manage the condition. For more advice, consult with your doctor or dietitian.