Many diabetes experts recommend eating salmon if we want to improve cardiovascular health. However, if we have only eaten fried fish and fish sticks, we are in for a surprise. Plus, we may be wondering how we can spice things up in the kitchen preparing some delicious and healthy salmon recipes.
Well, here are some healthy, nutritious, and extremely delicious dishes we should definitely try making. Moreover, these dishes are a great source of minerals, vitamins, and healthy fats. Plus, the best part is that we don't have to do a lot or spend a ton of time to prepare them.
Here are the best diabetes-friendly ways we can make a delicious salmon dish.
Healthy Salmon Recipes
Broiled Salmon with Honey and Soy
For this recipe we will need the following:
Ingredients:
Two tablespoons of soy sauce (reduced-sodium);
One pound of skinned salmon fillet (4 portions);
One tablespoon of raw organic honey;
One tablespoon rice vinegar;
A teaspoon of freshly minced ginger;
A teaspoon of toasted sesame seeds;
One minced scallion.
Instructions:
Mix the soy sauce with the honey, ginger, and vinegar. Mix until the honey has completely dissolved. Next, put the salmon in plastic or a sealable container and add three tablespoons of the soy sauce mixture.
Store the fish in the fridge for about 15 minutes to marinate. Set the remaining sauce aside for later use. Next, preheat the boiler. After that, cover the baking pan with foil and spray some cooking spray.
Remove the salmon from the bag and place it on the pan. Let it boil for about 10 minutes, or until it is completely cooked. Lastly, serve the salmon on a plate and drizzle some of the soy sauce. Also, feel free to garnish the dish with some sesame seeds. Enjoy!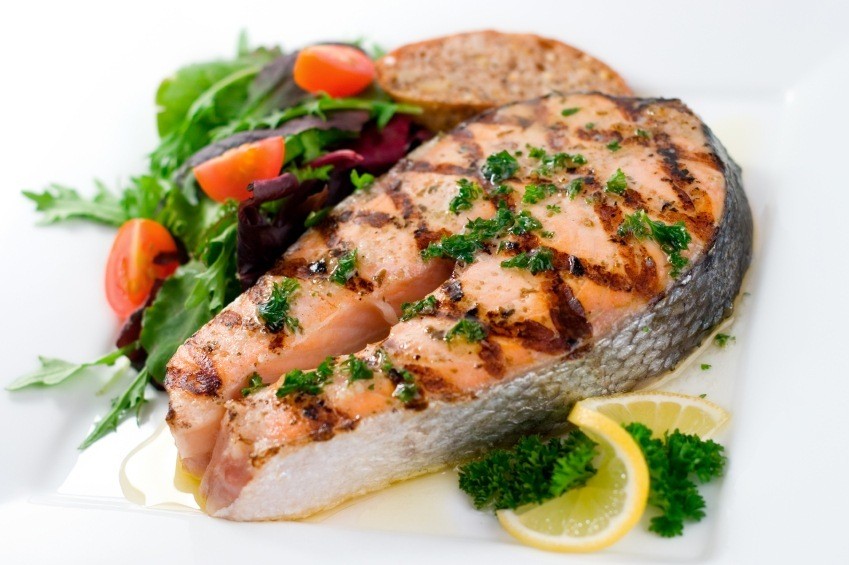 Grilled Healthy Salmon Recipe
Salmon is a fish we can grill. It is highly nutritious and rich in omega-3 fatty acids. Therefore, it will make a great addition to our menu. Here is how we can make this delicious recipe.
Ingredients:
One and 1/3 pounds of salmon fillet;
A teaspoon of garlic salt;
A teaspoon of water;
Half a cup of red wine vinegar;
Half a teaspoon of freshly grounded black pepper;
Two crushed garlic cloves;
Two tablespoons of olive oil;
Two teaspoons of dried basil.
Instructions:
Add the red wine vinegar, olive oil, water, garlic salt, garlic, basil, and black pepper in a baking pan. Next, place the salmon in the same pan to marinate. Let it sit for about half an hour. Furthermore, the more we marinate the fish, the better it will taste.
Therefore, we suggest marinating the fish for at least half an hour, but feel free to let it rest longer. While we are waiting for the fish to marinate, prepare the grill.
After that, add a bit of oil on the grill and cook the fish 12 minutes on each side. To check if we cooked our fish properly, see if the flakes easily come off with a fork. Lastly, serve the salmon and garnish it with some healthy veggies of our choice.
Delicious Salmon and Lime Healthy Recipe
For this tasty recipe we will need the following:
Ingredients:
Two tablespoons of butter (or olive oil);
Half a teaspoon of grated lemon zest;
Half a teaspoon of grated lime zest;
One and a half lbs of salmon fillet;
1/3 cup of water;
A quarter tsp of salt.
Instructions:
Add both the lemon and lime zest into the butter/olive oil. Mix them well and pour the mixture into a plastic wrap. Next, roll the plastic wrap to form a cylinder. Store the mixture in the fridge. Moreover, for faster results, store it in the freezer.
Now, it is time for the fish. Place it in a small baking dish and add water and salt. Next, cover it with a plastic wrap and poke some holes in it. Cook it in the microwave on medium for about six minutes and flip it over and cook for another two minutes.
Finally, top each portion with the lime, butter, and lemon zest mixture. Enjoy!
Find out more delicious and healthy salmon recipes here.