Disasters happen all the time, whether small or big, and they don't choose time or place, and certainly, they don't warn us. Being unprepared for an emergency will only increase your fear and panic, and you certainly don't need this.
We don't want to scare you, but sometimes being prepared means higher chances of survival.
Although disaster is one thing, a disaster while dealing with diabetes is another thing. In other words, having diabetes means being more prepared for a possible disaster than other people.
A disaster doesn't mean you can just stop your diabetes treatment and act like any other person without it.
You must take care of your blood sugar and insulin levels even in times of an earthquake, hurricane, tornado, or even a terrorist attack.
However, don't panic! We've made a list of the most important things you need to consider in case of an emergency.
You can use it as an emergency plan that will help you go through the first hours or days of the disaster without worsening your diabetes and putting your life at risk.
Emergency Supply Kit
First, you need an airtight, waterproof box that's easy to identify. Here's everything you need to put in your emergency supply kit:
1. Medication
This is the first thing you need to put in your emergency supply kit. Make sure you put on medication for any chronic disease that you have.
So, besides your oral diabetes drugs, don't forget the medication you take for your blood pressure, cholesterol, or any other chronic condition you have, if any.
2. Insulin & Insulin Pump
First, check the expiration date of the insulin. It should reach the expiration date if properly sealed and stored.  After opening, it can be used for up to 28 days if kept at a temperature between 59 and 86 F.
But, in case the manufacturer has changed it, this time reduces to 14 days after opening. An insulin cooling wallet is a good thing to have in such cases as it helps keep your insulin cool.
Besides the insulin and the insulin pump, you should also add insulin pump supplies which include reservoir syringes and cartridges, tape, infusion sets, prep wipes, batteries, and liquid adhesive.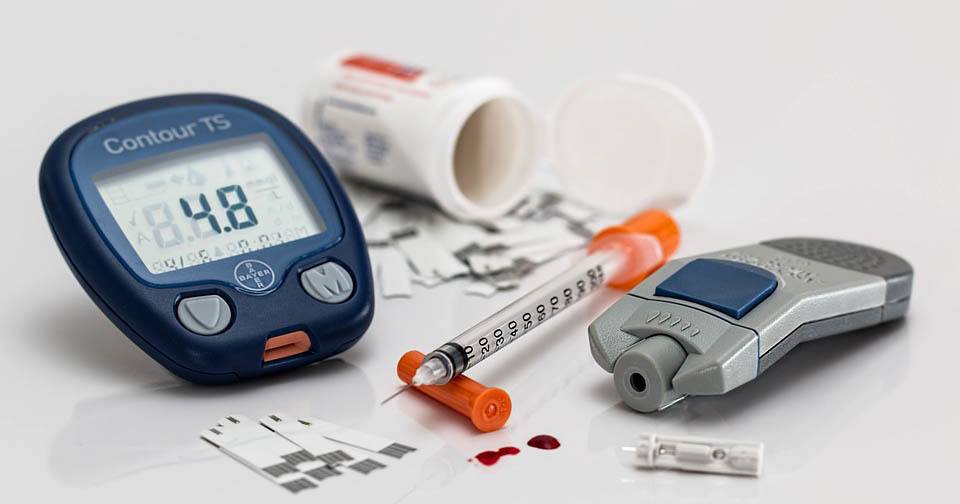 3. Blood Glucose Meter (Alcohol Swabs and Batteries)
Humidity and heat can damage your test strips and meters, so it's good to pack extra plastic bags to protect them from water damage. Also, don't keep your supplies under direct sunlight.
4. Urine Ketone Test Equipment
Dehydration is expected during disasters, so take this test if you notice the following signs of hypertension: vomiting, extreme fatigue, or increased urination).
5. Food
Food choice is extremely important for people with diabetes as it directly affects their blood glucose. That's why you should pack some of the following foods (check the carb content on the label):
Natural peanut butter;
1 box of unopened whole wheat crackers;
Powdered milk;
Granola bars in single-serve;
Canned diet soft drinks;
Nuts;
Canned meats or canned tuna;
Non-perishable dried fruit;
Low-sodium canned vegetables and canned fruits (without added sugar);
1 gallon of water per day;
Canned fruit juice.
Don't forget to put a can opener.
Other Useful Items
Here are a few other useful things that will help you during a disaster, so you can add them to your emergency box:
Candles and matches;
Flashlight and batteries;
Tools;
Hand sanitizer;
Toothbrush, floss;
Diabetes id bracelet;
Health cards;
Insurance cards;
Important personal documents;
Pen and paper for recording blood sugar levels;
First Aid Kit;
Emergency contact list.
Final Thoughts
Keep your emergency supply kit somewhere you can easily get to in case of an emergency. It's best to store supplies for three days.
Also, make sure you always wear shoes to prevent infections and other foot problems which are quite common in people with diabetes. If something seems wrong, go to a red cross shelter.