Rose apples have nothing to do with apples or roses. They are a fruit that grows in sub-tropic climates in Southeast Asia. But, it can easily be found in the wild since it grows in many regions.
That is why people consider rose apples to be quite an invasive species. This particular fruit looks like guava. But, it has fewer seeds. Moreover, it smells and tastes differently. People love eating this fruit because it is incredibly juicy.
It is 96 percent water and 0 calories. No wonder why people love it so much.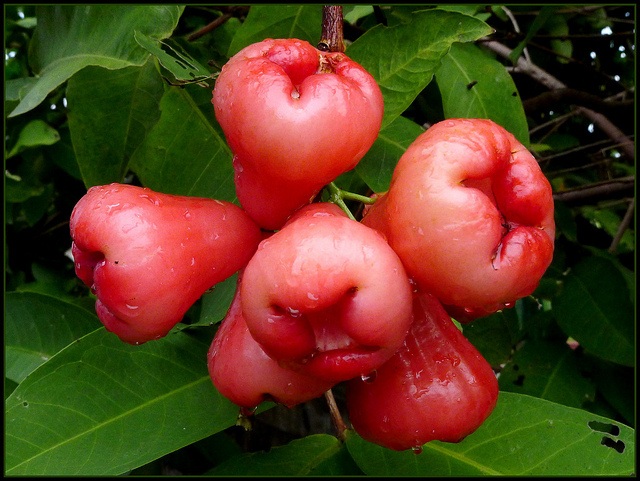 What is also interesting about Rose apples is the fact that they can grow more than 40 feet in height. Plus, it comes in different colors like deep red or yellow. But, it all depends on the plant.
Here are the most amazing health benefits of rose apples.
Note: The color of the fruit doesn't affect its nutrients. In other words, both red and yellow rose apples are equally healthy.
Health Benefits of Rose Apples
This juice contains plenty of organic active compounds like vitamin C and A. As a result, we highly suggest implementing this healthy juice in one's diet.
Moreover, it contains healthy anti-bacterial and anti-fungicide properties. As such, it might reduce the chance of developing infections and fevers.
Here is what else rose apple juice can offer for the body:
Reduce fevers
Lower the oxidation of the ''bad'' cholesterol
Boost digestion
Manage diabetes
Reduce the chance of epileptic seizures
Prevent bacterial and fungal infections
Improve the immune system
Detoxify the liver
What Makes Rose Apples Unique
This fruit has some incredibly healthy compounds.
However, since they can only survive in Southern California and South Florida, they are not shipped to the USA. They can't bear the frost. Therefore, we should never keep them in the freezer.
MD India is used as a liver tonic, a natural agent for strengthening gums and teeth and treating ringworm infection of the head in the traditional Arabian medicine (Unani medicine).
How to Make Rose Apple Juice
Since more and more medical tests prove the efficacy of rose apple juice, people have been drawn to it.
Now, more than ever, they are inspired to make their own rose apple juice. If someone was wondering how to make it, this is it. It is very simple.
Simply, juice the rose apples and squeeze a bit of lime juice. That's it!
Rose Apples and Diabetes
According to research, Jambosine is an alkaloid that could potentially help regulate or block the conversion of starch into sugar. This might be extremely helpful for those with unstable blood sugar.
Moreover, the research shows that this alkaloid can help the body regulate blood pressure levels as well. In other words, rose apples could be beneficial for keeping the blood pressure and blood sugar levels in check.
However, we suggest consulting with a doctor or nutritionist first, especially for those who are on medications. Remember, everyone's body may react differently to a certain change.