Apple cider vinegar has a wide range of medicinal properties which make it one of the most popular natural remedies on the Planet.
Some of its benefits include reducing blood pressure, boosting energy, supporting weight loss, improving heart health, treating acid reflux, and supporting gut health.
Cinnamon, on the other hand, is the #1 medicinal spice and herb when it comes to its antioxidant power. Also, it provides anti-inflammatory, anti-microbial, and immune-boosting properties.
But, how are these two ingredients affecting your blood sugar levels? Are they good for people with diabetes?
Cinnamon and Diabetes
Research supports the use of this spice in the treatment of diabetes. A group of Iraqi researchers analyzed the effects of cinnamon on people with type 2 diabetes. The participants took one gram of the spice a day or a placebo for 3 months.
They all continued to take their prescribed diabetes medications. The results showed that those who took cinnamon on a daily basis reduced their HbA1c and fasting blood sugar considerably more than the participants from the placebo group.
The Proceedings of the Nutrition Society journal published a study that suggests cinnamon helps improve insulin sensitivity and maintain glucose levels in people with type 2 diabetes. They all took Chromium supplements – a compound found in cinnamon.
The results showed they had their levels of insulin, glucose, HbA1c, and cholesterol improved.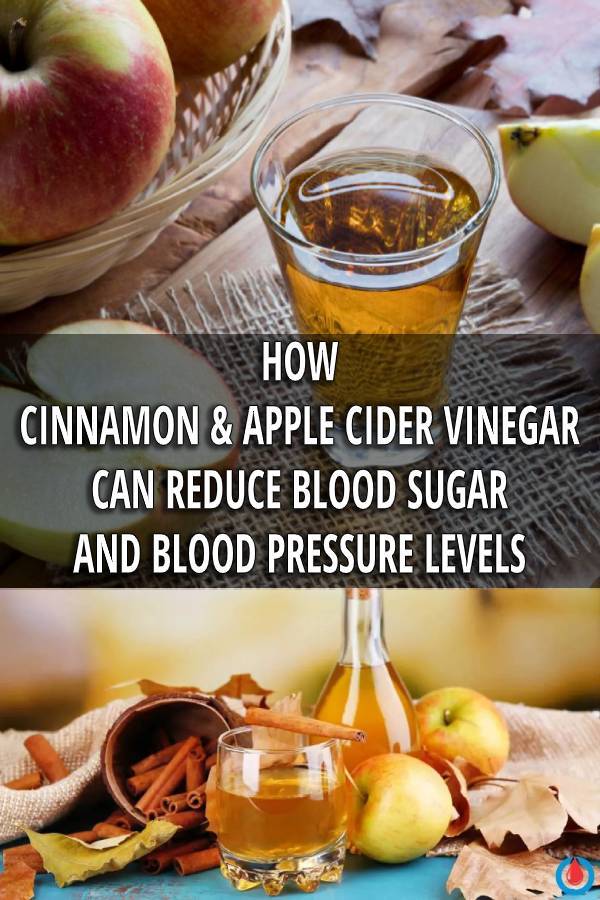 Apple Cider Vinegar and Diabetes
A study proved apple cider vinegar improves blood sugar and cholesterol levels in rats with and without diabetes. Another one investigated the effects of the vinegar on people with prediabetes, type 2 diabetes, and those with normal blood sugar.
Foods high in carbs cause blood sugar spikes right after eating. So, researchers gave all three groups less than ½ an ounce of apple cider vinegar after eating a meal high in carbs. The results showed they all had their blood glucose reduced after taking the vinegar.
Different research compared to water with apple cider vinegar in people with type 2 diabetes. It showed that eating a cheese snack along with two tablespoons of apple cider vinegar before going to bed reduces blood glucose levels the next morning.
Forbes believes apple cider vinegar helps slow down the conversion of complex carbs into sugar in the bloodstream thanks to the acetic acid it contains. In that way, it gives sugar more time to be eliminated from the blood, thus providing more stable blood glucose levels and reduced spikes.
The Diabetes Detox Drink
You can use both ingredients to make a detox drink that may help your body be more accepting of insulin. So, this could help normalize blood glucose levels and make your body more receptive to insulin. What's more, it'll help burn extra fat, speed up metabolism, and reduce blood pressure levels.
In fact, both of them, cinnamon and apple cider vinegar contains polyphenol compounds that help regulate insulin and glucose metabolism.
Besides these two important ingredients, there are a few more included in this recipe.
Ingredients:
2 tbsp. of Apple Cider Vinegar
1 of Cinnamon
2 tbsp. of Freshly Squeezed Lemon Juice
A glass of water
1 tbsp. of Raw Honey
Directions:
All you have to do is blend all the ingredients together using a blender. Enjoy this drink every day before meals.