The secret behind the benefits of these recipes lies in their effect on a hormone that we know as insulin. I'm sure that by now most of us are aware of that name, but basically, insulin is a hormone that is produced by an organ called the pancreas.
One of the jobs of this organ is to regulate blood sugar levels and keep them balanced. Once you eat a meal that is high in sugar, your levels start rising very rapidly.
Since this is very not benefiting your body and overall health, the pancreas starts producing excess insulin to even out the sugar levels again.
The problem with this is that insulin, as a hormone, sends commands to your system to keep calories as fat, which means that if you continue with these eating habits, you will gain weight for as long as you eat this way.
Not only will you keep gaining weight, but you will also feel hungrier, and either your system will stop cooperating with insulin, or the body will not create the hormone anymore.
This means that by that point you will probably join a large group of people around the world who are living with type II diabetes.
The main thing to do in order to prevent this from happening is to proceed to live a healthier lifestyle and to normalize your levels again.
What Should You Do
If you stop eating bread, drinking fizzy drinks, stop eating cakes, and different types of sweets, you will begin improving your health state.
The following are some of the recipes that will show you how amazing, fulfilling, and beneficial they are to be part of your meal plan.
Another interesting way to cut down and regulate your levels is to extend certain parts of your day where you can go without any food.
Of course, we know this as "fasting," but it's good for the stomach to get a break from digesting food by not receiving one of the standard meals in a day.
For example, if you go to bed without having dinner or don't have breakfast in the morning, the body will change to "self-repair."
This is why a diet revolving around regulating your blood sugar levels is important.
If on certain days you skip breakfast you will have a healthy and delicious salad for brunch, or during dinner time you either skip this meal and maybe have some soup and call it a night.
During this time you will fast your body for about sixteen hours without even noticing or feeling any discomfort.
Studies have shown that if you have two meals per day, you will get the necessary number of calories and feel the same satisfaction as those that eat during the entire day.
If you stick to your meal plan thoroughly, your levels, as well as your weight, will rapidly decrease, normalize, and you will feel better and healthier than ever.
10 Tips and Tricks to Keep in Mind While Dieting
It's always good to plan out your meals ahead of time so that when the time for food comes, you will be ready and know what you're about to have in your system;
Consider consuming more soup; it's a great way to have a small, healthy meal without feeling hungry afterward or feeling like it wasn't enough;
Drinking hot drinks is always a good idea because you don't feel hungry;
Avoiding sugars and syrups is a must, no matter the "All Natural" labels on the packaging. Brands often try their best to scam their customers by providing them with half-true or completely false information on their packaging;
Drink three liters of water a day to reduce tiredness or headaches;
Make the switch from potatoes, rice, or pasta to some cauliflower rice, shredded cabbage, or steamed vegetables;
Multivitamins every day during your fasting is always a good idea;
While you are on your diet minimize cordials, alcohol, smoothies, and fruit juices because they can have hidden calories;
Avoid "dietary" products because they are full of sweeteners and sugar;
Eat smaller portions
Recipes
1. Prawns with Indian Spice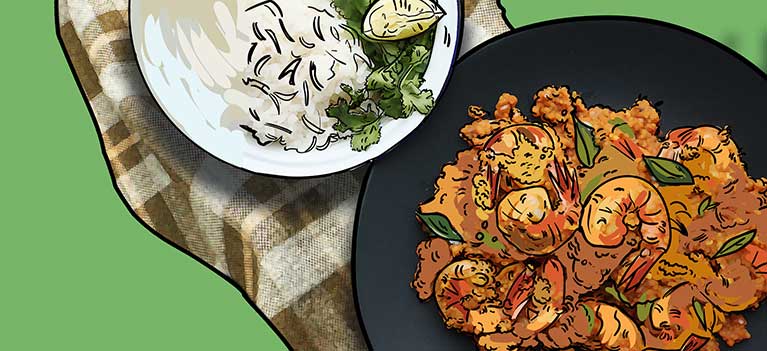 This recipe serves 2 people
Ingredients:
250 grams of large prawns;
¼ teaspoon of chili powder;
¼ teaspoon of turmeric;
One teaspoon of tamarind paste or juice from half a lime;
One tablespoon of vegetable oil;
One large chopped onion;
Two garlic cloves, finely chopped or crushed;
One cinnamon stick;
½ 400 grams of tin chopped tomatoes;
100 grams of spinach (fresh or frozen).
This Meal Has:
190 calories;
24 grams of protein;
7 grams of fat;
2 grams of fiber;
10 grams of carbs.
How to Prepare It

Marinate prawns using chili powder, turmeric, and tamarind paste for about half an hour. Heat oil in a saucepan that's non-stick, and fry the onions until they become softer.
Then add the cinnamon stick and garlic. After a minute or two, add the tomatoes and marinade without prawns. Cook this sauce on medium heat in order to get to a thicker consistency.
Cook the prawns until they obtain a different color. Eat it with the cauliflower rice, if you are not a fan maybe with some shredded cabbage that's stir-fried.
2. Chicken Wrapped with Parma Ham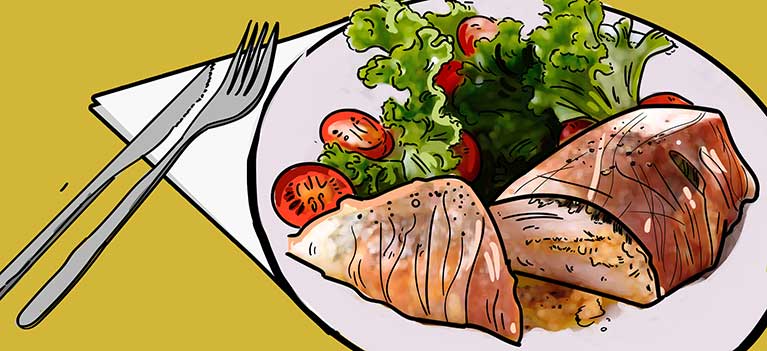 This recipe serves 2 people
Ingredients:
One heaped tablespoon of full-fat cream cheese;
One garlic clove, crushed or finely chopped;
Two small skinless chicken breasts;
Six slices of Parma ham (or serrano or prosciutto);
One tablespoon of olive oil.
This Meal Has:
320 calories;
39 grams of protein;
18 grams of fat;
0 grams of fiber;
0 grams of carbs.
How to Prepare It
Previously heat the oven to 180˚ C. Mix the cream cheese and garlic, season with black pepper, and add a pinch of salt. Spread the mixture across the surface of the chicken breasts and wrap two to three slices of ham around.
Drizzle it all with olive oil, and place it in an oven dish, bake for 20 to 25 minutes, or until the juices become clear when you pierce it with a sharp knife. Serve the dish with a salad or some green vegetables.
3. Chili Squid and Lentils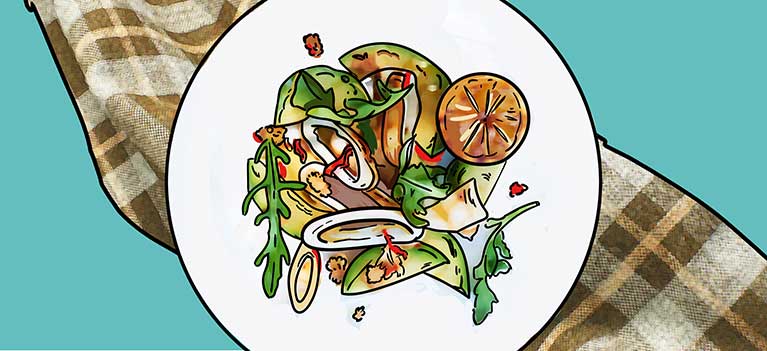 This recipe serves 4 people
Ingredients:
One tablespoon of olive oil;
One small diced onion;
250 grams of pack Puy lentils that are ready-cooked;
Half a lemon;
Four medium-sized squids;
4 teaspoons sweet chili sauce or three large red chili peppers that are mixed and diced with 3 tablespoons of extra-virgin olive oil and seasoned.
This Meal Has:
160 calories;
18 grams of protein;
5 grams of fat;
3 grams of fiber;
13 grams of carbs.
How to Prepare It
You need to fry the onion with olive oil till it turns brown. Put the lentils inlet it is a few moments, so it can get enough heat. Season it with salt, lemon juice, and black pepper.
Cut the squid on the side to open like a tube, lay it, score the inside, and make lines about 1 centimeter apart. Season it and cook for two minutes, make sure to turn it over on both sides.
The squid will curl up very fast indicating that it's cooked. Serve it on top of the lentils. Each serving should have chili sauce on the side. You can consume this dish with rocket salad, drizzled with lemon juice and olive oil.
4. Cauliflower Cheese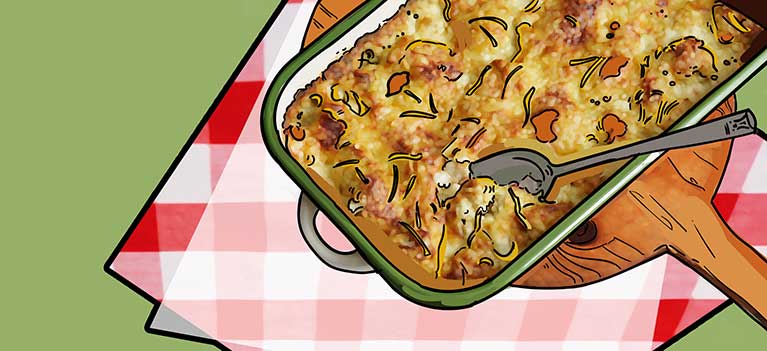 This recipe serves 4 people
Ingredients:
Two cauliflowers broke into florets, medium size;
200 grams of ricotta cheese;
200 ml crème Fraiche;
½ tablespoon of Worcestershire sauce;
100 grams of Cheddar, grated;
50 grams of diced lardons or bacon that is fried (optional);
Two to three big jalapenos (optional);
50 grams of Parmesan, grated.
This Meal Has:
450 calories;
20 grams of protein;
39 grams of fat;
2 grams of fiber;
5 grams of carbs.
How to Prepare It
Previously heat the oven to 160˚ C. Put the cauliflower florets in the oven (if you want you can also add broccoli florets). Take a bowl and mix the ricotta, Worcestershire, crème Fraiche, and Cheddar.
Put salt and black pepper. After five minutes take the cauliflower out, and put the bacon and jalapenos. Then you can put the cheese sauce.
Put Parmesan on top and put it back to cook for about thirty minutes. You know it is ready when the mixture is brown on top, and it is bubbling. You can serve this dish with fresh greens.
5. Salmon with Dill and Lemon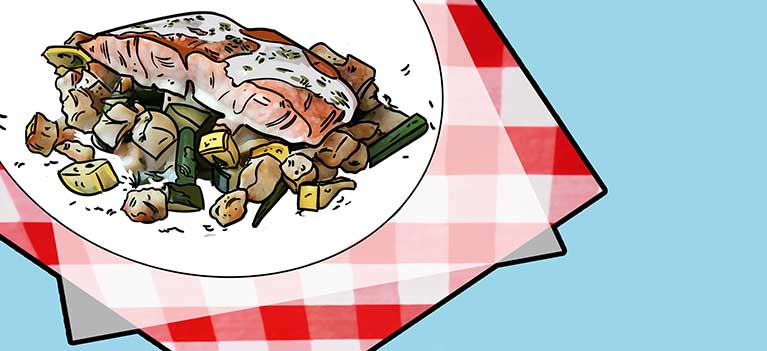 This recipe serves 4 people.
Ingredients:
Three peppers chopped into big pieces;
Two courgettes, sliced roughly;
Two red onions into wedges;
Sprinkle olive oil;
An egg;
Four salmon fillets;
The zest of one lemon;
1 tablespoon of crushed walnuts;
2 tablespoons of ground almonds;
A handful of finely chopped dill.
This Meal Has:
 370 calories;
 28 grams of protein;
 23 grams of fat;
 4 grams of fiber;
 14 grams of carbs.
How to Prepare It
Previously heat the oven to around 180˚ C. Place the peppers, onions, and courgettes in a dish, drizzle with olive oil, and season. While you prepare the fish for cooking, you can start with baking.
In a bowl, you need to beat the egg and mix it with dill, lemon zest, almonds, and walnuts. Season this dish with a pinch of black pepper and salt.
Take out the veggies after ten minutes and put salmon on top. Spoon the crumb mixture across the salmon and put it back in the oven, leave it in the oven for about twenty minutes. Serve with roasted veggies.
6. Coq au Vin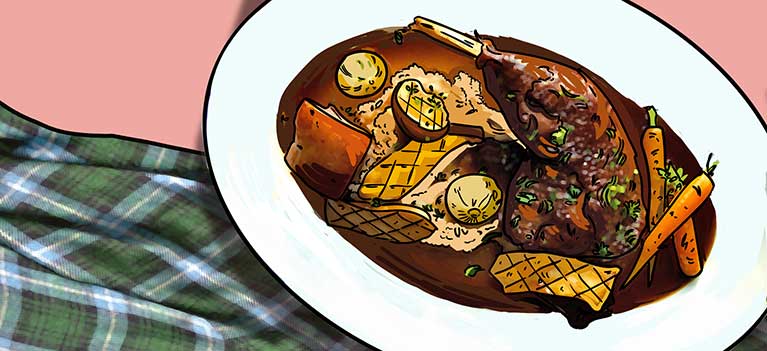 This recipe serves 4 people.
Ingredients:
One tablespoon of olive oil;
 Ten shallots;
 Four chicken legs;
 50 grams of pancetta or smoked lardons bacon;
 One crushed clove of garlic;
 200 grams of sliced chestnut mushrooms;
 Two to three bay leaves;
 400 ml of red wine;
 Two teaspoons dried thyme;
 300 ml chicken stock;
 Bouquet garni;
 One carrot into batons;
 A handful of chopped parsley;
1 tablespoon cornflour.
This Meal Has:
500 calories;
40 grams of protein;
28 grams of fat;
2 grams of fiber;
10 grams carbs.
How to Prepare It
Previously heat the oven to 180˚ C. Heat some oil in a large pan that is ovenproof and fry the chicken till it turns golden. Add the mushrooms, shallots, pancetta, garlic, and herbs, and cook for around 5 minutes.
After that throw in the cornflour. Add the stock and wine, carrot, and bouquet garni. Make sure to stir well.
Transfer to the oven and let it cook for around half an hour. Scatter the chopped parsley and serve it with cauliflower mash.
Take a whole chopped cauliflower and steam it for around 8 minutes with sliced leek, drain it, and mash it with one tablespoon of olive oil or two tablespoons of creme fraiche.
7. Lasagna Aubergine Style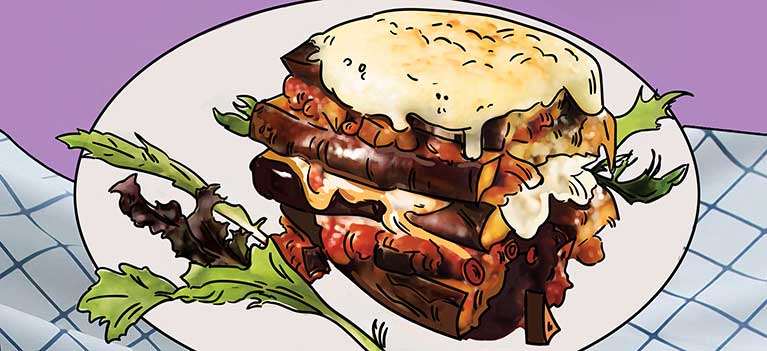 This recipe serves 4 people.
Ingredients:
50 grams of chopped spinach;
50 grams of  grated Parmesan;
100 grams of cottage cheese;
½ pepper (red) chopped and deseeded;
200 grams of mushrooms;
 1 crushed garlic clove;
 2 teaspoons of dried oregano;
 1 teaspoon of dried basil;
 300 ml passata;
 1 tablespoon of olive oil;
 200 grams of aubergine, sliced into strips;
 Twelve cherry tomatoes cut in half;
 50 grams of grated Cheddar.
This Meal Has:
200 calories;
14 grams of protein;
13 grams of fat;
3 grams of fiber;
7 grams of fiber.
How to Prepare
Previously heat the oven to around 200˚ C. Mix some spinach, cottage, and Parmesan cheese. According to your taste, season it. Put the mushrooms and pepper in a bowl with the herbs, garlic, passata, and olive oil.
Cover the bottom of a dish that is ovenproof with the veggie mixture and with only half of the tomato. Then add the sliced aubergines, as well as the cheese and spinach mix. Aubergines should be the last layer of this dish.
Cover it with foil and bake for around 30 minutes. After that, remove the foil and cover the top with some grated cheese. Return this dish to the oven for another ten minutes. Serve it with greens.
Breakfasts
Cereals and toast with jam will not keep you fed until lunchtime, and will just keep your blood sugar levels very high, and only a few hours later you will be very hungry.
Instead of that, you can lose weight and still enjoy an excellent, satisfying, and healthy breakfast that will keep your blood sugar levels balanced.
Try experimenting with different foods that are famous for boosting your energy levels, like fish, tomatoes, avocados, eggs, mushrooms, spinach, etc.
It's a good idea to create a meal plan that's mostly based on foods famous across the Mediterranean Sea, which includes some dairy products that are full-fat. Some of these recipes are like this.
Instead of low-fat yogurts, you should treat yourself to creamy Greek yogurt. Greek yogurt is known for being full-fat but has a high protein count which makes it good to indulge in from time to time because it will keep you full for a longer period of time.
It is believed that a diet with dairy products does not have an impact on cholesterol and does not lead to diabetes. You can consume coconut yogurt that is full-fat, as a non-dairy alternative. Just makes sure that is unsweetened.
Eggs are also a good idea, no matter how cooked because they are abundant in vitamins and proteins. Stop using instant oats and look in the market for Irish oats or oatmeal made out of unrefined steel cut.
They keep you fed and full longer which is exactly what we're looking for. Oats have lots of insoluble and soluble fiber, that supports the healthy bacteria in the gut and also keeps the blood sugar down.
Breakfast Recipes
1. Porridge with Apples and Cinnamon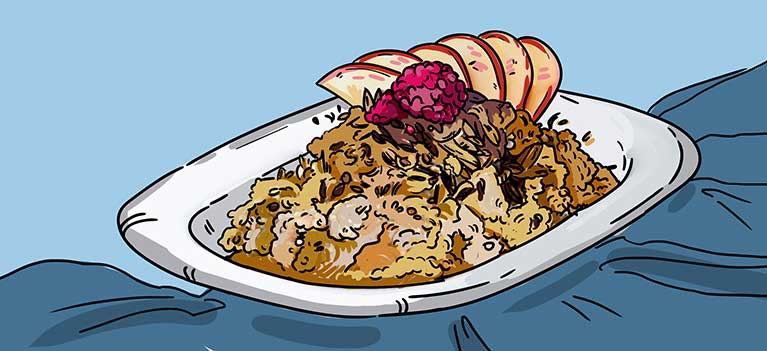 This recipe serves 1 person.
Ingredients:
25 grams of rolled oats;
175 ml of milk (semi-skimmed);
1 grated apple;
½ tablespoon of ground cinnamon.
This Meal Has:
260 calories;
9 grams of protein;
9 grams of fat;
4 grams of fiber;
38 grams of carbs.
How to Prepare
Put the oats and the milk in a pan along with cinnamon and the grated apple. Season with salt in order to enhance flavors. Boil and simmer for around five minutes. Make sure to stir so that it won't stick.
2. Tomatoes and Kipper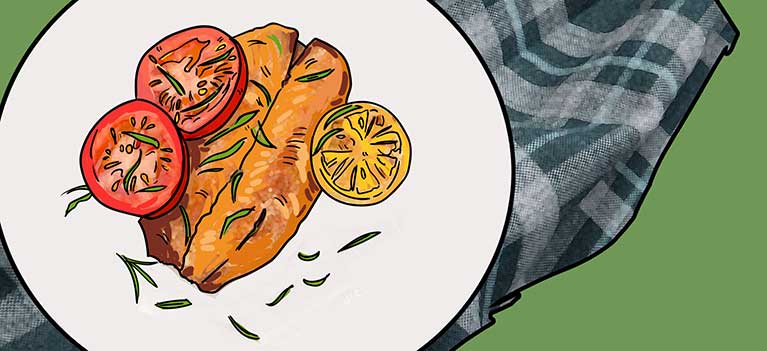 This recipe serves 1 person.
Ingredients:
One smoked kipper or mackerel fillet;
100 grams of tomatoes;
Knob of butter.
This Meal Has:
230 calories;
10 grams of protein;
20 grams of fat;
1 gram of fiber;
3 grams of carbs.
How to Prepare
One packet of kippers needs from 2 to 3 minutes to warm in the microwave. For additional flavor, you can sprinkle with black pepper and chili flakes.
You can either microwave or grill the smoked fish with a knob of butter. Serve the fish on a bed of cooked or cold tomatoes.
3. Omelet with Mushrooms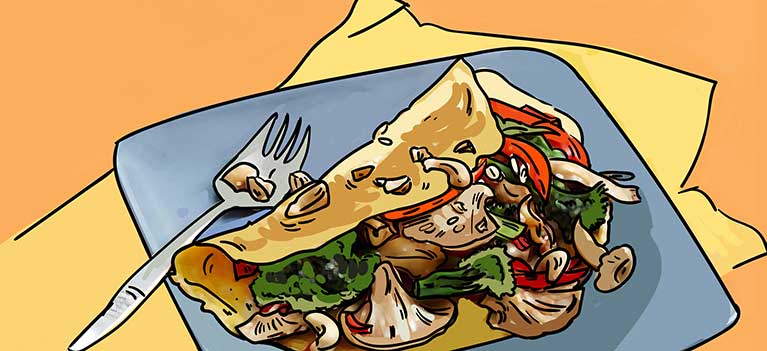 This recipe serves 1 person.
Ingredients:
80 grams of sliced mushrooms;
Two eggs;
Knob of butter or oil.
This Meal Has:
210 calories;
14 grams of protein;
17 grams of fat;
1 gram of fibers;
0 carbs.
How to Prepare
Fry the mushrooms with oil for about five minutes. Mix the eggs and put salt and pepper. Put some butter in a frying pan and put the eggs. After some time, turn down the heat, and put the mushrooms in to cook your omelet.
You should cook it until its underside gets golden brown. Then fold the omelet in two and simply serve it.
4. Greek Yogurt with Berries, Seeds, and Nuts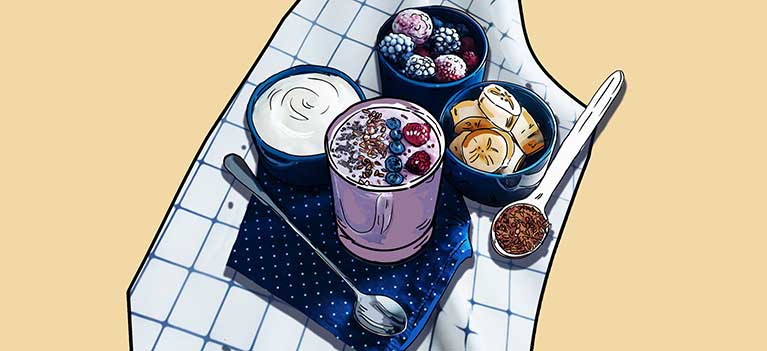 This recipe serves 1 person.
Ingredients:
Two large tablespoons of Greek yogurt;
One tablespoon of toasted nuts and seeds;
A handful of berries.
This Meal Has:
200 calories;
9 grams of protein;
18 grams of fat;
2 grams of fiber;
5 grams of carbs.
How to Prepare
All you have to do is to assemble everything into a bowl and enjoy.
5. Avocados and Previously Baked Tomatoes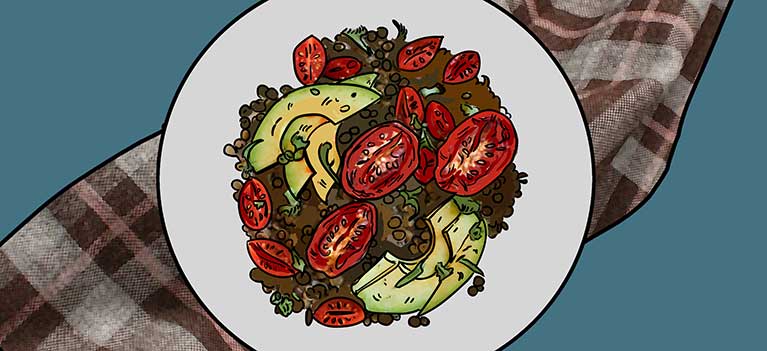 This recipe serves 2 people.
Ingredients:
200 grams of tomatoes (3 tomatoes);
½ teaspoon of dried tarragon, rosemary, or oregano;
Two ripe avocados;
One teaspoon of paprika;
Pinch of chili flakes (this is optional).
This Meal Has:
300 calories;
4 grams of protein;
29 grams of fat;
8 grams of carbs;
7 grams of fiber.
How to Prepare
Make sure the tomatoes are cut in half. Throw in some herbs, and bake for half an hour at 180˚ C. The avocados should be in half too, you need to take out the flesh.
Make sure to mash roughly, and top it with some baked tomatoes. In addition, you can sprinkle paprika, black pepper, and chili.
6. Mushrooms with Feta Cheese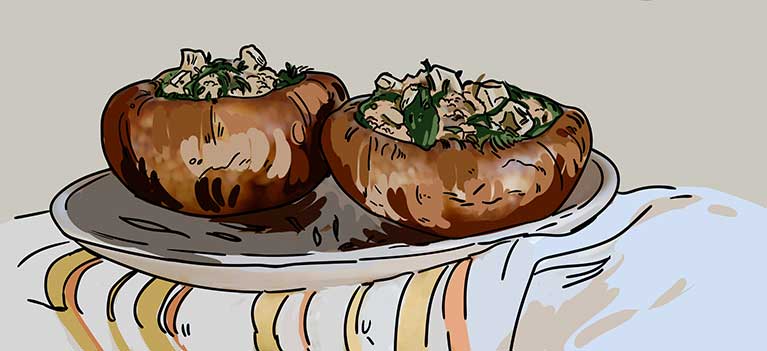 This recipe serves 1 person.
Ingredients:
60 grams of chopped spinach;
30 grams of crumbled feta cheese;
Ground nutmeg;
Two to three large flat mushrooms;
One tablespoon of olive oil.
This Meal Has:
130 calories;
7 grams of protein;
10 grams of fat;
2 grams of carbs;
2 grams of fiber.
How to Prepare
Drain and clean the spinach. Put it in a bowl, and mix it along with feta, pepper, and nutmeg. Take out the stalks of the mushrooms. Sprinkle with olive oil and place on a baking tray. Fill with the mix of spinach that you made. Bake everything for fifteen minutes at 180˚ C.
Sources American Diabetes Association | NIDDK | Diabetes Educator | Diabetes UK | Diabetes Australia