Whatever your reasons, think about the results you're hoping to achieve using Dr. Geyelin's 7-day ketogenic diet meal plan.
A low-carb diet, or ketogenic diet, is a diet designed by Dr. Geyelin in the 20s. He noticed that a low-carb diet reduces the number of seizures in his patients, and that's how he created it.
He discovered that the diet helps control hunger, reduce cholesterol levels, and control blood sugar levels. It also encourages the production of ketones in the liver which supply the body and brain with energy.
The body uses ketones as an alternative fuel source when blood sugar is in short supply. Consuming very few carbs (which are quickly broken down into blood glucose) and moderate amounts of protein allow the production of ketones in the body.
People who've tried the ketogenic diet say that it helped them manage their diabetes, epilepsy, heart problems, and Alzheimer's.
According to a study published in Annals of Internal Medicine, this diet helps improve insulin sensitivity by up to 75 percent, which is really incredible.
Nevertheless, we're not allowed to consume sugar when following this diet, as opposed to the high-carb diet which uses it as an energy source. Here, the body uses the accumulated fat as an energy source, thus burning it.
This is excellent for those who are trying to get in better shape, but also for those who want to eat less and still have plenty of energy.
7-Day Ketogenic Diet Meal Plan
Day 1
Breakfast – Bacon, eggs, tomato
Lunch – Chicken meat, feta cheese salad, and olive oil
Dinner – Vegetables, meatballs, and cheddar cheese.
Day 2
Breakfast – Eggs, goat cheese, tomatoes, and basil
Lunch – Cocoa butter, stevia, almond milk, peanut butter, and milkshake
Dinner – Meatballs, vegetables, and cheddar cheese.
Day 3
Breakfast – Keto milkshake
Lunch – Avocado, prawns, and olive oil
Dinner – Pork chops, broccoli salad, and parmesan cheese.
Day 4
Breakfast – Omelet with spices, peppers, onion, and avocado
Lunch – A handful of nuts, salsa celery, and a guacamole
Dinner – Stuffed chicken, cheese, and steamed veggies.
Day 5
Breakfast – Omelet with tomatoes and cheese
Lunch – Leftovers from yesterday
Dinner – Eggs, mushrooms, and salad.
Day 6
Breakfast – Omelet with vegetables and ham
Lunch – A handful of nuts, cheese, and ham
Dinner – Eggs, beefsteak, and salad.
Day 7
Breakfast – Eggs with bacon and mushrooms
Lunch – Guacamole, cheese hamburger, salsa
Dinner – Eggs, salad, and beefsteak.
Note: Be sure to consult a doctor or nutritionist before making any dietary changes.
What to Avoid on a Ketogenic Diet
Avoid carb foods that are loaded with starch and sugar. Some of them include rice, potatoes, pasta, and bread. Not to mention the sugary foods like donuts, candies, cakes, chocolate bars, soda, and juices.
Also, avoid processed foods.
What to Drink
Water is the best choice for those on a keto diet, but tea or coffee is fine too, as long as they use no sugar or another sweetener.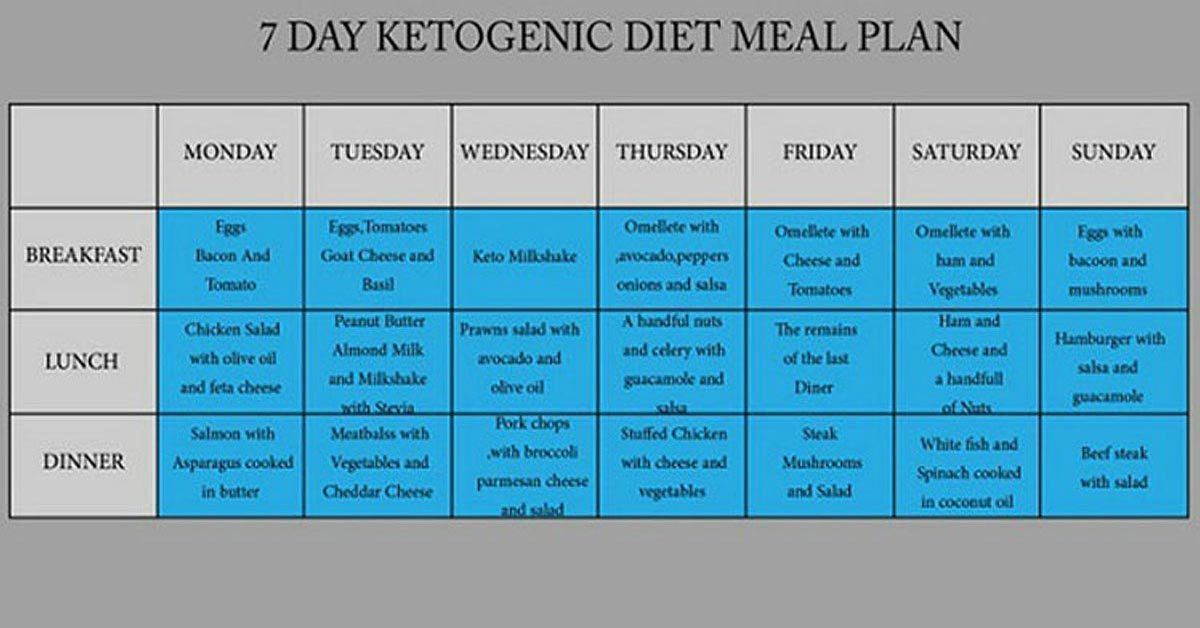 Drinking a glass of wine from time to time is OK.
Just follow this diet to experience some pretty amazing benefits for blood sugar, cholesterol, energy, and weight.
Source
Meraki Lane | Diet Doctor